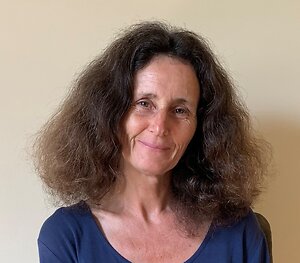 My background and training
I originally trained in Core Process Psychotherapy with Maura and Franklyn Sills at the Karuna Institute in Devon. This is a contemplative and transpersonal approach to working with our earliest experience, including conception, pregnancy and birth.

Inspired by this depth of work, I went on to train with William Emerson, Ray Castellino and Karlton Terry in prenatal and birth psychology and with Franklyn Sills in biodynamic craniosacral therapy. More recently I trained in TRE (Tension or Trauma Releasing Exercises) in order to support the release of stress/trauma in a small group context.

This work is rooted in mindfulness and in cultivating compassion towards one's embodied experience, from moment to moment. Over the years I have participated in retreats, from the Buddhist and other spiritual traditions and have learnt to appreciate the authenticity of meeting that is possible in relationship, at the level of being to being.

I strive to create an environment of safety and trust in my work with clients, so that we can meet in an open and real way together. Over the years I have worked with a wide range of issues, from relationship difficulties, to anxiety, depression, sexual trauma, psycho-spiritual crisis and life transitions.


Relationships, Parenting & Supporting Women
I have also trained in couples work and in parent-child therapy, supporting couples and parents to relate more intimately with themselves and their families. I started my working life as a TEFL teacher (teaching English as a foreign language) and then as a Steiner kindergarten teacher and have always loved helping children to build their self-esteem and confidence.

I most recently trained at Red School in menstruality teachings and feel particularly passionate about supporting women worldwide to lead empowered and fulfilled lives. In my sabbatical from client practice several years ago, I had the opportunity to work closely with vulnerable teenage mothers and school girls in Central and South America.

I am registered with the UK Council of Psychotherapy and the European Association of Psychotherapy. I adhere to the UKCP Code of Ethics.

Contact Me by Email